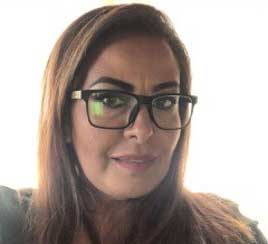 Veronica Ortiz Castañeda
Company Agent at: Hernandez Realty Group
Verónica Ortiz Castañeda is an entrepreneur with a degree in
Law, born in Ajijic, for which she knows perfectly the Ribera
of Chapala and everything in it to offer to her clients and
help them find the property that fits the interest and
needs of their customers.  
She is also an expert in solving real estate problems, like administration,
maintenance, as well as probates and of course, listing properties for sale. 
Before starting her own property management business, Vero,
as she affectionately likes to be call, worked for 15 years going 
through all the administrative areas of this great company Hernández Realty Group, to
what she lovingly calls her "alma mater", until she became
coordinator of closing sales where she gained a lot of experience
that reinforced her academic legal learning, then worked 1 year
as an intern at a Notary Public's office where she found that that she's into real estate. 
Now, with an excellent legal back up, and a successful career in
independent real estate environment, she is once again back to be 
part of this great company as a Real Estate Sales Advisor, making herself available to those
whom are in search of the dreamed home in La Ribera de Chapala, which
is a paradise on earth for many reasons such as the good climate
that we enjoy and our beautiful Lake, as well as the different
amenities and facilities available to our international community that deserves
the best attention by Veronica and had left pleasant references from the attention received. 
Veronica enjoys doing her job with enthusiasm and dedication, and
has the great support of his family that is composed by his son "Bruno Jr." from
22, student of Plastic Arts at the University of Guadalajara,
16-year-old "Pilar," a high school student and aspiring teacher, and
of her husband, the locally recognized plastic artist and muralist
state, Bruno Mariscal. 
Vero enjoys meeting with his family and friends, she loves the sea as well as taking
long walks alone listening to music either in the mountains or by the road,
she also likes Zumba training, and recreational dancing. 
Veronica is available and at your service to give you the best attention.